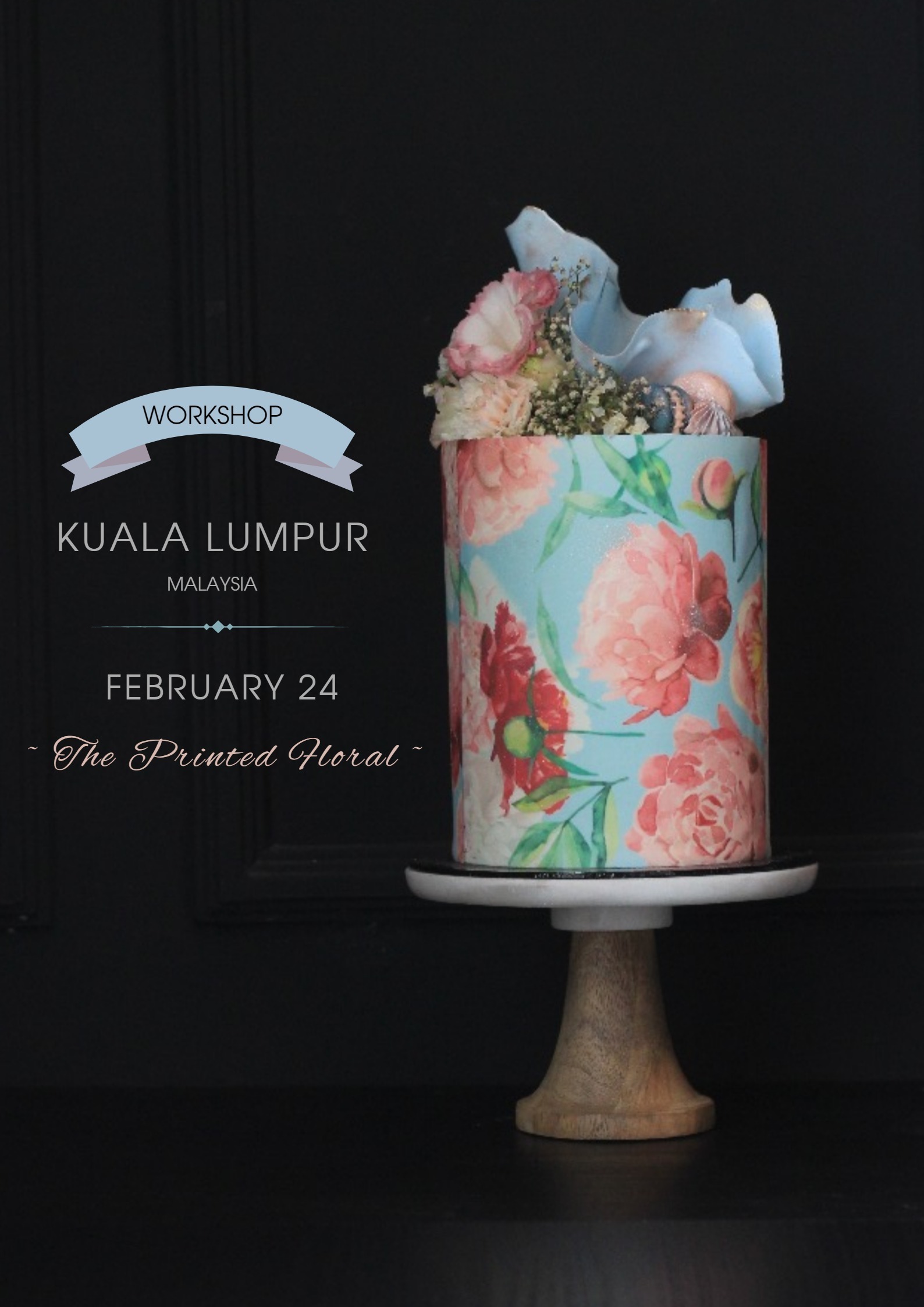 Workshop : The Printed Floral
Info
This is cake decorations only workshops, conduct by our founder herself, Syainim Ghazali. This is a hands-on class in which you will learn various techniques in order to recreate Printed Design Cake. You will be able to take your beautiful creations home to share with friends and family.
*Every student might get a different design of floral & colour.
DATE: Saturday, 24th February 2018
TIME: 10am-6pm (please arrive 15 minutes prior)
SKILL LEVEL: Beginner-Intermediate (your passion is required)
MAXIMUM NO. STUDENTS: 12
* Please ensure that you are able to attend the above date as payment is non-refundable however, the booking may be transferred to another name.
The Class
The class will cover:
CAKE DECORATIONS
• Cake design & planning
• How to make B&S Boston Pie Fillings and the making of smooth buttercream.
• How to stack & layer a cake and fill around a cake
• How to render smooth buttercream and achieve edges on a round cake
• Technique to apply the printed sheet on the cake
• How to measure your printed sheet so it is enough to cover the whole cake
• How to avoid printed sheet from forming an air pocket & how to correct it if it's happened.
• How to apply edible gold touch on printed cake & sharing a medium for the paint
• How to handle an isomalt, coloured & shapes it
• How to assemble the isomalt, piping technique & flowers decorations onto a cake securely
• Many tips and tricks
We are so excited to share this with you! Come and join us!
Provided
The following will be provided:
- Equipment & tools only for workshop purpose
- Cake and ingredients
- Apron
- Recipe to keep
- Lunch & Beverage
Dress Code: Either white/pink/black 😉
Please wear comfortable and closed shoes.
Location
Ampang, Kuala Lumpur, MALAYSIA
(We will contact you personally the exact location 10 days before the class & after you have made a full payment)
Facility
---